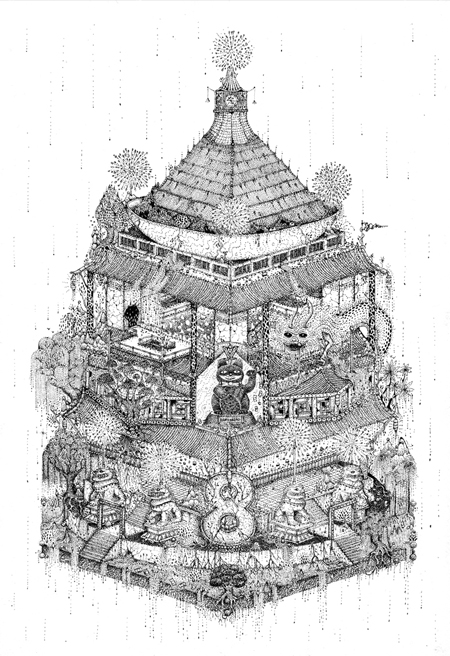 D ear Folks !
Avid readers among you will recall that

Halloween

is the official anniversary date for The Fourth Dimension. Seeing as our Facebook Fan page, is deliberately programmed to conceal public notifications of our anniversary showed in how little of you wished us a Happy Birthday :'( But we won't hold you to that. You are certainly right to adapt to our modern times, but for our eighth anniversary, we were really occupied with our exhibition Campagne des Chiens de la Route… This last

Halloween

was, for the three of us an opportunity to meet @ The Secret Head Quarters, to reflect on the activities performed last year, and to prepare appropriate proposals for actions on the coming year (still with the notion to achieve our world domination). This night in particular,

Woody

, who is passionate about numbers and their meaning in the universe consulted his thick « grimoires », before explaining to us that the partial sonority of 8, (ba) in Chinese is « fa » which means « To make a lot of profit ». This principle is still significant today, which a lot of Chinese are ready to spend tens of thousands of 元 (yuans) to own or acquire a basic phone number, vehicle license plate, or lottery ticket … who contain 8 numbers. BINGO ! The first sales figure was an indicator of prosperity with the acquisition of the 9.10DO's POWER GLOVE ™ (PROTOTYPE) which was purchased by an anonymous benefactor in late November. So we decided to continue on this positive course for this year 2017 ! We can confirm here that : From here on now, this 8th year, will be a year of prosperity and productivity ! Just as in China " When The Fourth Dimension awakes, the whole world will tremble" and we will not let Fu-ts'ang-lung (伏藏龍) take back the treasury !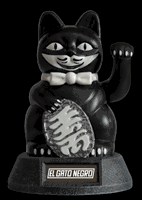 01.20.17
Jack Tezam '17
繁荣兴旺💰
A.T.F.D. n° 02
Indian ink on Canson paper
21 x 29.7 cm


-