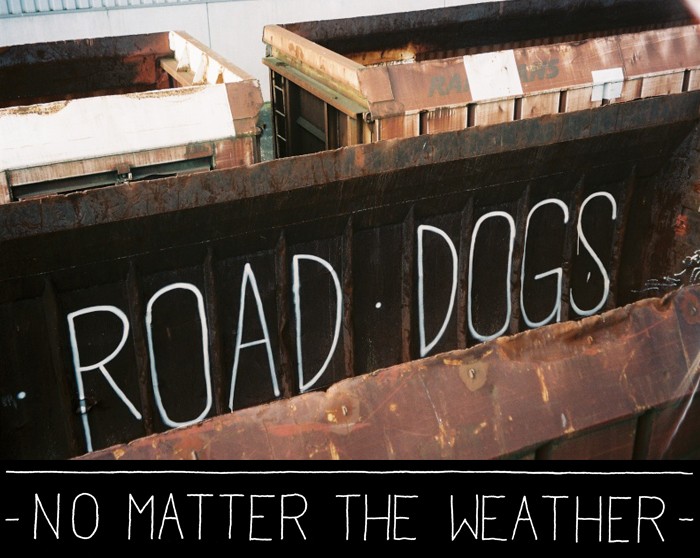 &nbsp Dear Readers,

At the beginning of winter, sometimes life becomes dull and gloomy, a bit like a day of mourning or a rainy Sunday of December spent making GIFs.
In addition to that, at this time of year, even for

The 4TH™

(usually n°1 in terms of entertainment), we are running out of ideas...
Fortunately, our evil twins, also known as the

Road Dogs

are here to take over.
And believe me, they always have more than one trick up their backpacks to make us leave this critically grievous reality.

For one, there is this book: Road Dogs - No Matter The Weather. Published by

Croatan Edition

from the

Kings of Unknown Kingdom

serie, during the Black Bivouac in February. A 72 pages adventure story in which, photographs, drawings and texts recounting the Road Dogs' life on the road and the rails in Europe, no matter the weather.

To carry you on your journey with the Road Dogs, here is a song from

Flavien Berger

entitled REAL DOGS!
Thank you Flavien.




&nbsp
Book preview:



&nbsp

A simple quote:



(...)This is how persistence remains the major quality :
when in the storm, from the highest point of the mountain , a ray of sunlight manages to penetrate the thick fog and sublimate by its light the breathtaking rocks ; when , after several days hidden in a dark deposit playing cat and mouse with the railwaymen, the train finally starts taking us with him into the darkness ; when, around the fire, after a long walk, the flames dance on the tired faces , melting the frost stuck to our clothes gradually warming limbs numb with cold ... These moments of grace are rare and valuable, and require heavy labor. Then remember that often the hassle is worth it. Though amulets protect from the evil eye, the failure is quite common, it is part of this game, and gives even more bite to the next rounds.(...)



12.09.14