&nbsp Each Dec. 21 since the end of the World of 21/12/12 we pay and will pay tribute to Chokko1er the ominous bird. How and why did he left us ? Is

Youtube™

responsible for his death ? Is he really gone ? Is there an afterlife for humans ? So many questions that remain unanswered today...
In an attempt to elucidate these mysteries, here is a summary of facts throughout The 4th Dimension's History, accompanied by a few evidences.

― &nbsp Chokko 1er, was a founding member of

The 4th Dimension

.
Faithful follower of the New Age obscure channels of

Youtube™

, it was during the genesis of The 4TH in

'08

that he started trying to impose a form of spiritual guidance.
But his rants went unnoticed by our public at the time.

― &nbsp Always looking for the hidden Truth, it's in

'09

that he began his fascination towards a possible end of the world. At the collective meetings he sometimes would be wearing his ridiculous costume of bird...
Unaware of what was going to happen next, we took this lightly thinking that this was an attempt at a artistic performance.
Not great we thought… I let you judge for yourself see here

― &nbsp In

'10

, following one of his so-called 'apocalyptic visions', he started working on a chapel for a future tomb (see here)
Then he left the secret 4TH h.q. for a long journey in Asia.

And it is here in the slums of South Kolkata in India that Chokko1er met Jack Tezam.
Jack Tezam recalls:

' I was just trying to paint on the banks of Hooghly when I came across this funny guy. He immediately spoke about The 4th Dimension and about 9.10.DO whom I did not know at time. He also talked about the end of the world, but I only pretended like I was listening. Then he asked me about following him to Nepal, and I immediately agreed. On the road to the Himalaya he introduced me to the art of miniature painting by hyper-focus linked to ADHD (of which we both suffer). This technique I now use for all my drawings, and I'll be eternally grateful to him for this. '

― &nbsp In

'11

, after returning from Asia, Jack Tezam and Chokko1er organized an exhibition of their miniature painting and photographs in Paris.
Have a look here.

― &nbsp In

'12

, Jack & Chokko1er left for Bugarach hitchhiking their way to live the end of the world. (consult the article here)
Jack Tezam adds on that matter:

' Chokko was very rude on the road, and seemed extremely stressed. I knew he cultivated a great fascination for the Apocalypse.
But at that time, I was far from guessing what would happen. I, to this day, regret with all my heart, the December 21, 2012, when he told me solemnly that the time had come for him to fulfill 'his mission'. I did nothing to stop him. And that was the last time I saw Chokko1er. His disappearance remains a big shock for me. '

― &nbsp After returning from Bugarach, Jack organized the funeral (reported here) in the volcano park of Auvergne, France (Chokko's homeland). In the coffin, no corpse, but only the costume of the bird found shortly after his death on the way to the Pech, at the foot of a granite cliff. Following the funeral, Jack officially joined The 4TH. Then, for a long period of mourning, he isolated himself at the

Lab_sin_01

to work on the book The End Was Near.
Have a look here.

― &nbsp In

'13

, on the anniversary of Chokko's disappearance, as a tribute, an evening retreat was organized at the secret h.q. with the help of the

Collective Sin ~

. Evening during which it appears that Chokko1er might have tried to get in touch with us. The image partially proves it here

― &nbsp Today, December 21,

2014

, two years after Chokko1er has slipped into a-side, the investigation is stalled.
But we will never abandon hope as we will do anything to honor him and save his soul.

To be continued ...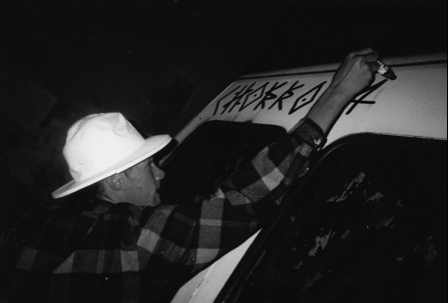 12.21.14



&nbsp &nbsp Jack Tezam '14


&nbsp &nbsp Les Entrailles du Mont Bugrarach
&nbsp &nbsp (tentative échouée d'abstraction)

&nbsp &nbsp Indian ink on Canson paper
&nbsp &nbsp 21 x 29.7 cm