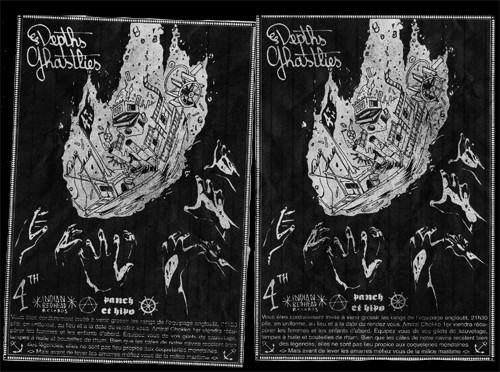 &nbsp I just woke up after two days of sleep and realized that it's been already two years !
This has been the sweetest nightmare I had specially since I wasn't able to sleep for a minute back in the days. Now I can't figured how fast this dream was running between rooftops getaway and night-time racking, my world literally collapsed under my feet and I found myself sixty-six feet under to blow with my mates the second candle on top of the gigantic cake at midnight on october the 31th. In order to celebrate, they organized a party in the center of the earth half way to China. Unsuprisingly the water down there was warn and quite boiling. The people who followed the leading through the muddy waters received the dress code

titanic zombies

to match the scene and they had unforgivable and never ending fun living behind the world has they knew it. When starting feeling at home inside this cosy old carcass-like cave, about 16gal of tasty french wine arrived for them to keep enjoying the warmest night of their existence ... ... (the 4th never let down the people who believe in them).
The night was thrilling, for sure one of the best birthday party I ever seen.
The after, for lads who knows was great too (Jessica surely knows).
In conclusion from the desk of the hosts themselves :

Thanks to all of you guys for coming. It wasn't the first, certainly won't be the last.



Again, HAPPY BIRTHDAY FOURTH DIMENSION,
keep it Alive, you're the best!
11.30.10