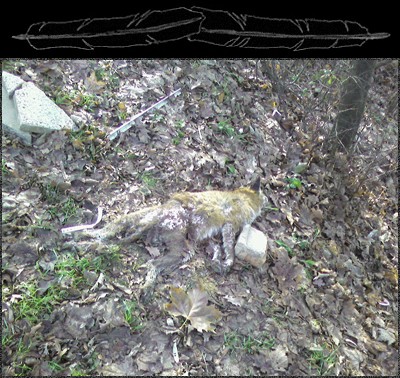 At the begining, it was only water and Old Man Coyote. Then two ducks came to him. Ducks dive deep down below the water to bring back in their beaks some mud and a little root to Old Man Coyote. Old Man Coyote took a little lump of mud and blew on it, He made earth. Then he created trees and plants with the little root. After that, He took up again some mud and made buffalos, bears, deers, mens and womens. Old Man Coyote is our Father. He is dead.
&nbsp &nbsp
Based on a Crow story
Au début, il n'y avait que de l'eau et le Vieil Homme Coyote. Puis deux canards l'ont rejoint. Les canards plongèrent sous l'eau pour ramener dans leurs becs de la boue et une petite racine au Vieil Homme Coyote. Le Vieil Homme Coyote pris un petit morceau de boue et souffla dessus, Il créa la terre. Il créa ensuite les arbres et les plantes avec la petite racine. Après ça il prit à nouveau de la boue et créa les bisons, les ours, les cerfs, les hommes et les femmes. Le Vieil Homme Coyote est notre Père. Il est mort.
&nbsp &nbsp
D'après une histoire Crow

07.04.09